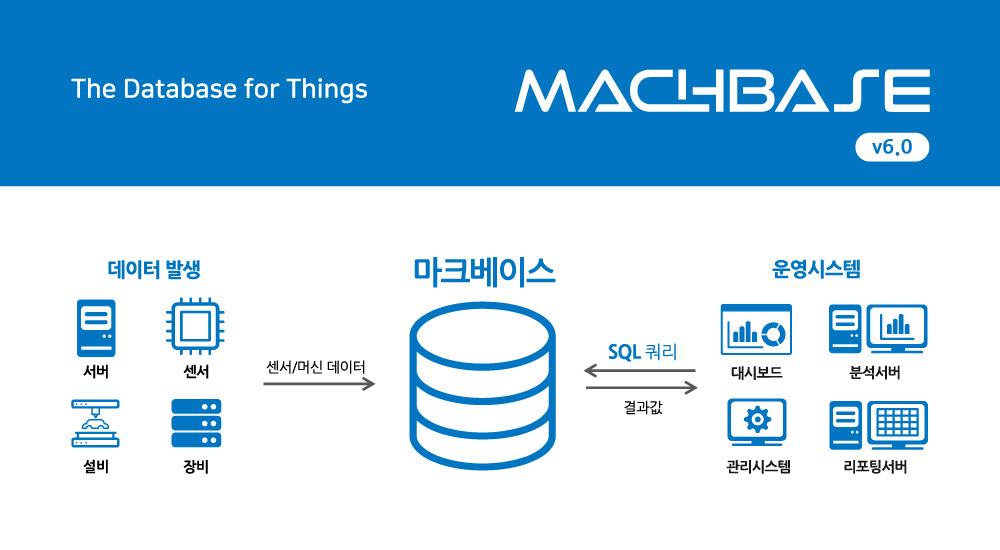 Mark Base (CEO Sung-Jin Kim) is a time-series DBMS 'MACHBASE v6.0' that supports real-time processing of ultra-large-capacity sensor data from smart X environment industrial IoT devices such as smart factories, smart buildings, and smart cities. Announced.
Time series DBMS is a special purpose DBMS for processing time series data generated at regular time. It is attracting attention as a key technology in the 'Smart X' field, such as smart factories, smart cities, and smart grids, which have become global trends.
A representative of Markbase said, "The optimal solution that provides a solution for processing hundreds to hundreds of thousands of sensor data per second pouring from industrial IoT devices that time series DBMS has not been possible with traditional RDBMS and big data solutions is rapidly increasing in popularity."
The time series DBMS 'Mark Base' is unique in terms of sensor data processing performance. In November of last year, the TPCx-IoT field test conducted by TPC, a global accredited certification body, ranked first and surpassed global companies and was listed as an international standard.
The core of the fast performance provided by Markbase is that instead of omitting existing RDBMS functions such as transaction and data changes, tags (sensors) and time-based index construction and high-efficiency compression technology for real-time input and inquiry of millions of data per second. Adopted.
The newly introduced 'Mark Base v6.0' also strengthens existing strengths, such as improving data compression and adding incremental backups, to challenge the performance goal, 'Save, analyze, and utilize up to 100 million data per second'.
The representative improvement function is a tag table compression function to minimize disk usage. To increase the price / performance ratio, it is important to maximize the number of transactions per second and minimize the disk usage. By improving the efficiency of tag table compression, it is possible to compress disks up to three times as much as before.
Incremental backup method is also newly added, and it is possible to back up only the data that has occurred since the last backup. Significantly reduce backup time and storage space. Applicable to all databases, tags, logs, and tables.
We added support for multi-connection to enable automatic failover (fail-over) in a cluster environment, considering that it is necessary to guarantee DBMS availability required by customers. If the connection with the access server is lost due to various reasons, including server failure, you can access the other server that has been set in advance and restore the status of the query that was being performed on the previous server.
Mark Bass, CEO of Seongjin Kim, said, "Sometimes ago, smart factories requiring tens or hundreds of thousands of sensor data processing per second were not very common. In the industrial IoT environment, the amount of sensor data that needs to be processed is exploding. "Government and business interest and participation in manufacturing innovation, such as smart factories, are increasing significantly. "As the voice of utilization is increasing, we plan to devote ourselves to securing customers in the manufacturing and public sectors."
Staff Reporter Kim Ji-sun river@etnews.com
Source: etnews.com