Zapping Autonews Leisure Citroën Ludospace Tinkervan: the Berlingo motorhome in video
For this type of original and versatile leisure vehicle, "the demand was and remains enormous," explains general manager Marcus Lorinser. With a few hardtop Puch Gs in stock, it seemed obvious to the trainer that it was necessary to build a motorhome on this basis. The brave rustic 4×4, in the service of the Swiss army for years, therefore takes a well-deserved retirement by retraining as a recreational adventurer. It is dedicated to modern adventurers wishing to camp in places usually inaccessible to motorhomes. Vintage all-terrain freedom has a price: € 69,000 at Lorinser for a copy of this prepared 230 GE.
The technical basis of the motorhome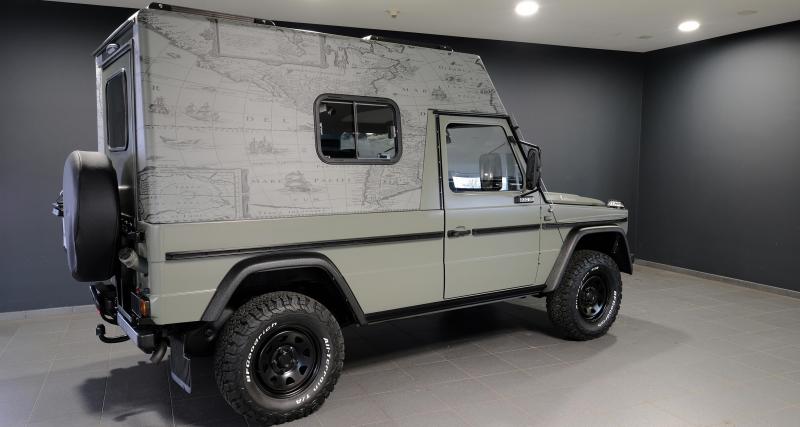 +45
Remember that the "G-Class" was not a luxury SUV at the start of its career. It was developed for crossing in order to serve the army, like the first Land Rovers. Converted by Lorinser into a hipster motorhome, this Puch G can trust its all-wheel drive and its differential lock on the rear axle to overcome all obstacles in off-road. Its petrol engine remains a modest 116hp 4-cylinder associated with a 4-speed automatic transmission, so don't expect a lightning of war on the road. This rustic block however does the job with a mileage of only 88,000 km on this particular copy. Lorinser's teams focused on the look of the vehicle by repainting it entirely in matt khaki green and protecting its underbody with a specific treatment. The seats have also undergone a complete overhaul while the off-roader has been fitted with a tow bar, LED headlights and BF Goodrich all-terrain tires on black steel rims typed "Dakar".
Comfort equipment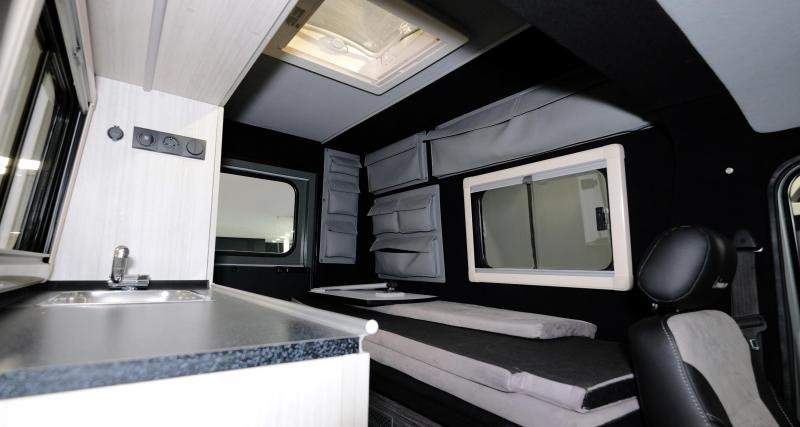 +45
The most remarkable point about this Puch G remains the "habitable" zone of the vehicle which takes place under the raised hard-top and gives all its sense to its side motorhome. The restored hardtop is covered with a polyurethane coating and adopts the design of an old-style map to mark its adventurer style. For the comfort of its occupants, the living space is equipped with additional heating, 220 V sockets, a microwave, a kitchen unit with sink and a bathroom with water reservoir. To power all these little people, the vehicle batteries are used and can be recharged via solar panels installed on the roof or an external connection. A folding table and two folding beds complete the equipment. Many details have been thought of for the ventilation of the passenger compartment and the lighting of the interior space with natural light while an outdoor shower can also be fitted easily. To pay you for this very successful vintage leisure vehicle, you will have to pay € 69,000. The brand also offers to create your own project based on military G on request.
Source: autonews.fr