Wednesday, 15 January 2020 16:37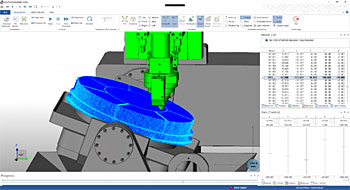 Company InssTek integrates the additive production computing core ModuleWorks into their DMT (Direct Metal Tooling) technology. The innovative ModuleWorks software enables InssTek to leverage the multi-axis feed capabilities of its DMT machines to provide a fully automated and cost-effective solution for concurrent 5-axis manufacturing and repair of complex parts. DMT with the integrated ModuWorks computing core, supplied as a plug-in Rhino module, automatically generates a toolpath that utilizes the machine's 5-axis motion capabilities to enable the production of parts with very complex geometries.
This means that these parts, eg guide lamella rings, can be manufactured in a single continuous manufacturing step. Additive toolpaths are collision-free and can be optimized with user-defined parameters to reduce residual stress in the material.
For optimum process safety, ModuleWorks integrated simulation software checks for possible collisions between the component and the print head. You can also predict and prevent printing errors. Custom tool profiles (eg powder nozzle, laser) provide application flexibility, and the simulation generates a process model of the material flow that can be used for subsequent processing steps.
The integrated, high-performance ModuleWorks Post-Processor Framework (PPF) ensures that all commutation and laser commands are optimally tailored to the machine and transmitted to the controller at more than 50,000 track points without the need for further customization for a fully automated and cost-effective direct routing solution. energy.
Source: cad.cz