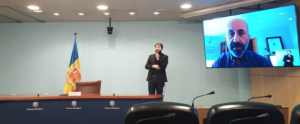 The Minister of Health of Andorra, Joan Martínez Benazet, announced today that there is one new death from coronavirus at the Cedar residence. In total, it is already there fifteen dead in the Principality due to Covid-19, nine of which are from this center health care, which has registered 38 cases. Eight deceased were inmates and one was a day center user.
For active coronavirus cases, in total there are 399, including 95 health workers and 19 workers from special bodies. There are 50 hospitalized people, 14 of them in ICU with 13 ventilated and 2 in very serious condition. The rest of the people who have the virus are isolated at home.
Martínez Benazet has assured that the supply of protective equipment and medicines is guaranteed, and that the government continues to work to strengthen the capacity of mechanical fans at Nostra Señora de Meritxell Hospital.
Joan Martínez Benazet: 'You must save your skin first: there can be no doubt as to whether you have to choose between economics and life'


Source: vilaweb.cat