Love to fly9.2 million Israelis departed abroad during 2019, which represents an 8% increase over 2018, according to data released today by the Central Bureau of Statistics, which presented a summary of last year's data on Israeli departures abroad.
By air, there were 8.3 departures abroad (up 7%), while on the land there were 777,000 departures by Israelis (a 25% jump), due to the increasing flow of Israelis going on vacation and trips to Sinai in Egypt and Aqaba in Jordan and nearby tourist sites, including Petra Indeed, the segmentation shows that 499,000 of the land departures were to Sinai – a 31% jump.
The data also show that there was also a sharp rise in the number of Israeli departures abroad (91,000 departures) – a sharp increase of 91%, due to increased competition in coastal cruising. In addition, 2.4 million of all Israelis departed abroad (26% ) Were in the summer months of July-August, when the people of Israel went in droves for trips and vacationers overseas.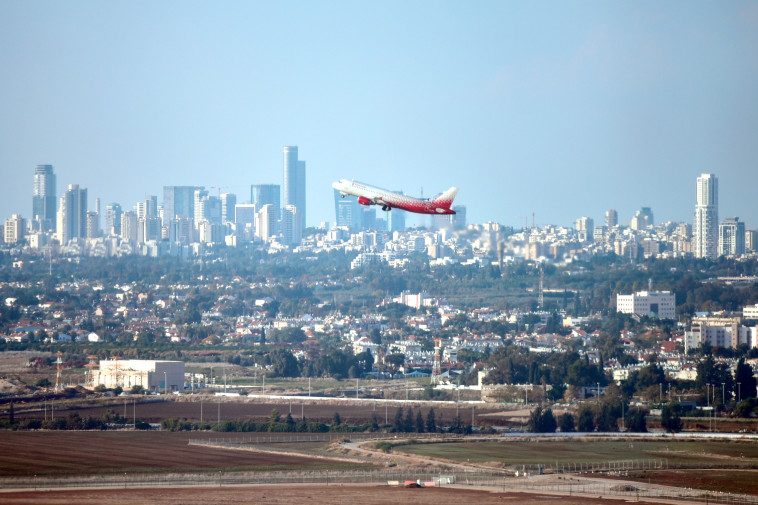 In all of 2019, about 12% of departures (1.1 million) were of children up to the age of 14, while some in the summer months of July-August stood at 21% (489,000). The highest number of departures through Ben-Gurion Airport was recorded on September 26, at which time there were 50,000 departures in one day, compared with an average of 22,000 departures per day from Ben Gurion Airport. Living abroad and coming to Israel for a homeland visit.
In addition, 4.3 Israelis went abroad during 2019, of which 2.2 million went abroad only once during the year and an additional 2.1 million went abroad twice or more.
Against the background of the open sky policy and the significant reduction in flight prices, the CBS noted that there has been a continuous rise over the past decade (except 2012). As of 2013, the number of Israeli departures abroad has increased by more than 8% per year on average, following the entry into force of The open sky agreement that led to competition in the aviation industry and the entry of other companies into the flights to Israel, including the low-cost airlines.
The CBS also noted that in December there were 677 Israeli departures abroad. 598,000 departed departed once and approximately 30,000 departed twice or more this month. The segment shows that 69% of those going abroad in December were men.
Meanwhile, analysis of the trend data for the number of departures abroad shows that in the last three months of 2019 – October-December – an average of 813,000 Israelis departed abroad per month, while in July-September 753,000 departures were recorded. The higher number of departures in October-December is probably due to the holiday season, which was mostly in October, and cheaper fares after the holiday boom, plus a sickle of December departures for Christmas shopping and holidays.
Record of inbound tourism – all data
As Minister of Tourism Yariv Levin announced yesterday, in 2019 a record 4.9 million arrivals of visitors to Israel were recorded. This is a 12% increase compared to 2018. The segment shows that 4.8 million of arrivals were tourists (a sharp increase of 10.5%). Also, 33,000 arrivals were day visitors – a 31% jump, 94,000 of which were cruise passengers.
Over the past decade, there were an average of 3.6 million visitor arrivals per year, with an average of 3.2 million tourist arrivals per year. In 2019, a 35% increase was recorded in the number of visitors and 41% in the number of tourists, compared with the annual average of the decade.
The CBS noted that seasonally adjusted data shows that in the last three months of 2019 (October-December), an average of 400,000 tourist arrivals per month were recorded, compared with an average of 348,000 tourist arrivals for the month of July-September.
However, the summary of the decade data suggests that unusual security incidents could have an immediate impact on tourist arrivals. In 2016-2014 the number of tourist arrivals was lower than in 2013, probably due to security incidents, mainly Operation Cliff Eitan in July-August 2014.
In 2019-2017, the number of tourist arrivals to the country was recorded every year: 3.6 million arrivals in 2017 (a 25% increase from 2016), 4.1 million in 2018 (a 14% jump) and 4.6 million in 2019 From 10%).
The sharp increase is due to the relative security quiet, open sky policy that increased transportation in the aviation market and significantly reduced air travel prices and significant financial incentives for airlines opening a new line. During the winter season, an airline operating at Ramon Airport receives 60 euros for each passenger.
Source: maariv.co.il