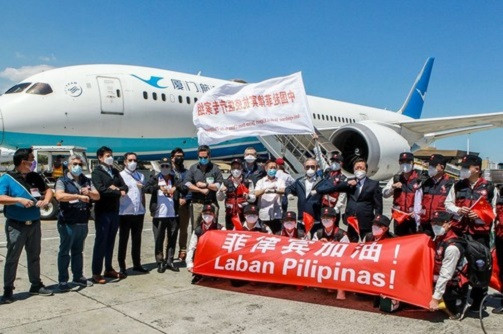 A team of medical experts sent by the Chinese government arrived in the Philippines on April 5, 2020. Photo: Xinhua / Rouelle Umali
jpnn.com, MANILA – A team of medical experts sent by the Chinese government to help the Philippines fight the corona virus outbreak has arrived in Manila on Sunday (5/4). They helped and gave advice to the local government regarding how to handle the plague.
The 12-member team consists of medical experts in the field of prevention and control of infectious diseases, clinical care and laboratory testing.
Chinese Ambassador to the Philippines Huang Xilian said the experts were one of the first three teams sent by Beijing to ASEAN countries. According to him, most of the team members were veterans of the war against the corona virus in China.
"The arrival of this team will help the Philippines improve its ability to prevent and control epidemics as well as diagnosis and treatment, so as to increase public confidence in overcoming COVID-19," he said.
Philippine Foreign Minister Teodoro Locsin expressed his gratitude to China for its help in fighting the rapidly spreading virus.
"To the Chinese people, thank you very much! We are very grateful that this is a new virus, and the only ones who can really tell us how to deal with it are those who struggle on the ground, and they are experts in China," said Locsin to Xinhua.
In addition to sending a team of experts, China also contributed new medical supplies to the Philippines, including 300,000 surgical masks, 30,000 N95 medical masks, 5,000 personal protective equipment, 5,000 medical face shields, and 30 noninvasive ventilators.
Huang added that since the outbreak of COVID-19 in the Philippines in early March, China has provided support and assistance to the Philippines to the best of its ability.
Source: jpnn.com