The Houseparty app is not unknown. The video chat application was released in 2016 and quickly became popular in the United States. These days we are also hearing more and more about the app that you have probably already found in a list of the "best applications for video conferencing".
Since we have to spend most of our days in our own four walls, the lists of "best video conferencing applications" have been on the web. Only this morning a journalist friend in Paris invited me to "a beer at a distance" via such an app. It's called a houseparty. Already with the installation I notice the enormous aggressiveness of the app, which wants to access my phone contacts, Facebook and / or Snapchat. In addition, the video chat application naturally wants to have access to the microphone and camera of the smartphone – by the way, this is always activated as long as the app is open. She also wants access to the GPS position, but this is optional.
After removing this unique data trap, I went looking for more information about houseparty. And actually I'm on one right now French article by BFMT encountered on Monday (March 23). There you are warned of the application, which should be "very greedy for personal data".
Your house party with house party: Open bar and freely accessible data
The app is very easy to use. It allows you to video chat in virtual rooms. Up to eight people can take part. So it's perfect to have a drink and enjoy social contacts while at home.
What is special about the house party is that friends of friends can also take part in the video chats. But you decide that yourself. If you want to stay among yourself, you can of course also use private chat rooms and exclude uninvited guests. In addition, Houseparty offers you a very limited selection of integrated mini-games that you can use via the service. These include Pictionary or Trivial Persuit.
Sounds nice, but just one look at the data protection guidelines and you can see how much data is collected. If the requested access to your contacts has not yet been granted, then "the application will display the user's IP address, the IMEI number of his device, his operator and in the broadest sense the name, location, gender and also the photos of his Access users. All of this information can then be reconciled, "says Suzanne Schwierolle, a doctoral student in law at the University of Paris-II-Panthéon-Assas and a specialist in the protection of personal data and privacy.
The worst thing about the collected data flow, however, is that houseparty, "is the content of all devices that are managed through the service, including all ideas, inventions, concepts, techniques or know-how for the development, design and / or marketing of products or services may use. "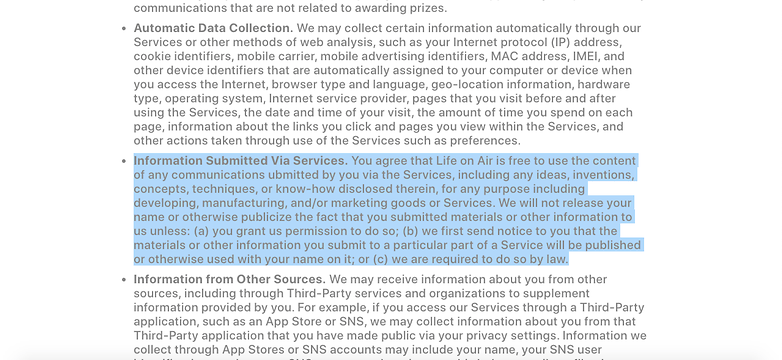 Data fair game: Houseparty turns data protection into a farce
Specifically, this means: Forget the encryption of all your conversations and say hello to complete archiving – both video and audio – for commercial purposes. The likelihood that someone will reveal the idea of ​​the century or a revolutionary product or start-up concept is relatively low. In the event that you succeed in a stroke of genius, Houseparty can steal your idea if you shared it there.
The really bad thing is the mere recording of each of your conversations. Houseparty listens to you carefully and the application makes no bones about it. There is even some data that the network automatically classifies as "non-personal". The houseparty application says nothing more in its terms of use. The application probably also tracks user activities outside of the service to see which third-party websites have been visited. In these cases in particular, the refusal to collect data has no effect.
Does this mean that we now have to do without a house party entirely? Yes, that's exactly what it says! There are a lot of encrypted chat apps that you can use instead. Simply choose between Whatsapp, Facetime or Telegram. Stay at home and lock your doors at the house party.
Source: androidpit.de