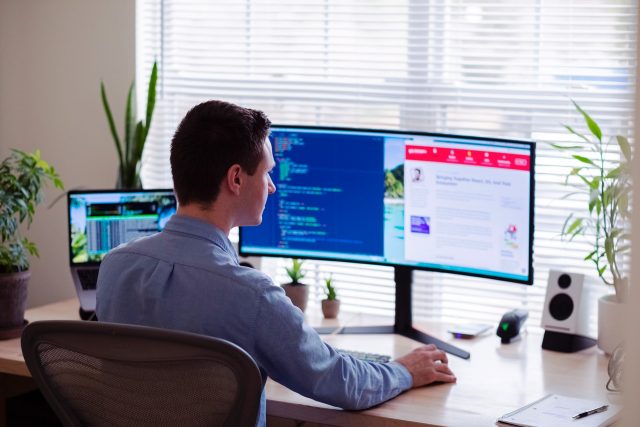 The discussion about teleworking is often back, with many companies in Cyprus applying it once a week or depending on the needs of each season and employee. However, the coronavirus pandemic and the difficult times of the last days have almost made it. Those who can work from home – is it now time to reach zero time to equip your home office with what you need to work comfortably and efficiently?
The first thing you need to settle on is your internet connection. Whether we are talking about wired or wireless, the most likely is that, until now, your home network is structured based on where the router happened to be. To ensure the fastest possible connection, smoothly and without interruption, you can use the power cords in your home's electrical grid to transfer wired connection from the router to the computer with a set of Powerline adapters! look at it TP-Link kit, for example: you plug in one device next to the router and connect it to a network cable at the router outputs. You plug the second device into an outlet next to the computer and connect the computer to the computer with a network cable. And, by magic, you have a fixed and fast network, as if you had a large network cable to connect the computer to your router!
If you now prefer wireless, but your office doesn't get a good signal from the router, you can just get a range extender like that of TP-Link and extend the wireless network to the room you are interested in!
Now that we have solved the big issue of 'connectivity', it's time for the teleconference! Don't rely on the tiny camera on your laptop – a modern webcam is essential so that your image reaches your partners with good quality and high resolution. If you want Full HD then watch it Logitech C920, which is made for streaming and live broadcasts. If you want something more economical, then Creative Live! Cam is exactly what you are looking for!
And let's go into the subject of sound: don't look for your laptop or camera microphones. What you need is a directional microphone that will catch your own voice and not the … kids playing in the next room. The Urban Revolt is what you are looking for and is very affordable, it comes in three colors to match your desk!
And finally, if you want your conversations to stay in your own ears and not be heard by those who are within a few meters, headphones Urban Revolt Over-Ear with built-in microphone is ideal for making your teleconferences comfortable, with clear sound and volume control, without costing a fortune! You will find it in white and black to choose from!
The Public continue to offer their products to Cypriot consumers through their online store public-cyprus.com.cy, email info@public-cyprus.com.cy and 7777-0300. Contactless delivery is possible if the order has been paid online and free shipping for orders over 30 €.
Source: digitallife.gr