"My family doesn't deserve it. No one should be subject to such abuse. " This was one of the strong phrases in the statement in which Benjamin Griveaux, of the party Em Marcha! President Emmanuel Macron, resigned his candidacy for the Paris Chamber. It happened this Friday morning, hours after a sexual video began to circulate in which the former government spokesman, very close to Macron, would be the protagonist.
The polls were no longer favorable to Griveaux, who was running against the incumbent president, socialist Anne Hidalgo, and they represent a severe blow to the French President's strategy. However, the procession still seems to be in the churchyard: the case has shaken French politics, with the dissemination of the video deserving a condemnation from all political quarters, but attention is now turned to the person responsible for publishing the images.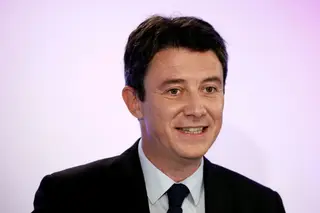 Piotr Pavlenski, a Russian artist who appears as an activist against his country's government but also against Macron's executive, took over "Libération" the responsibility for the site where the video was hosted, which is now inaccessible. More in interview with French channel BFMTV, says Griveaux will be the only politician to see publicized sexual content.
"Benjamin Griveaux is a candidate who lies to his voters and does Puritan propaganda. He is the only candidate who started his political career with big lies and great hypocrisy towards all voters," said Pavlenski.
The artist – who among other actions has already sewn his lips in solidarity with the Russian contesting band Pussy Riot and nailed his testicles in Red Square – is represented by lawyer Juan Branco, legal adviser to Julian Assange and WikiLeaks, who has already come to defend the client.
"He decided to denounce, by all possible means, the dominance that Macron has over political power. It was a political gesture of rupture, he is in opposition. He has a commitment and says that it is only the first step," he explained.
In October 2017, in Paris, Pavlenski set fire to a facade of the Bank of France in Paris, considering that the institution had "taken the place of the Bastille" and "bankers the place of monarchs". Interestingly, the action took place just five months after he obtained political asylum in the country.
Griveaux has already assured that he will complain to the authorities for the dissemination of the video. According to the French Penal Code, disclosure of images or words of a sexual nature without consent can be punished with two years in prison and a fine of 60,000 euros. The ex-candidate for the French Chamber also intends to accuse the Russian of violating his private life.
Source: expresso.pt