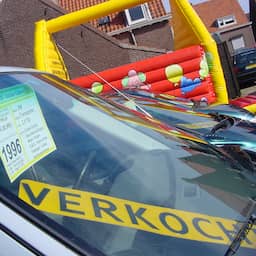 The number of used cars sold in March fell by 13.9 percent compared to the same period last year. This reversed growth in January and February and the total for the quarter is lower than in 2019.
In the first quarter of this year, 320,000 used passenger cars were sold in the Netherlands, a decrease of 0.8 percent compared to the same period a year earlier. That downturn is due to the outbreak of the coronavirus, BOVAG and information provider RDC report on Thursday.
In January and February, increases of 6.9 and 4.8 percent, respectively, were noted. Although car companies were still open in March, the influx of buyers fell sharply following government measures to combat the spread of the corona virus.
An "important part" of the used second-hand vehicles concerns vehicles from abroad. BOVAG and RDC do not give an exact number or share.
Follow the latest developments around the virus in our live blog.
The coronavirus in short
The coronavirus mainly spreads from person to person via sneezing and cough drops. The chance of becoming infected through surfaces such as door handles is small. This chance decreases if you wash your hands often.

You can considerably reduce the chance of spreading by keeping at least 1.5 meters away from others.

The corona measures have resulted in an infected person infecting less than one other person on average. Previously, this so-called reproduction number was between two and three.

The vast majority of patients have mild (flu-like) complaints.

Almost all deaths involve the elderly or other vulnerable persons, such as heart, lung or diabetes patients. If everyone complies with the measures, this reduces their risks.

Read here what precautions you should take.
Source: nu.nl