Altice Europe publishes its results for the fourth quarter of 2019 and therefore those of SFR (subsidiary of Altice France).
Over the last quarter of last year, SFR recruited 196,000 subscribers to a consumer mobile plan for a total of 14.4 million subscribers, up 5% year-on-year. SFR remains the champion of recruitment on mobile compared to Bouygues Telecom (+152,000), Orange (+47,000) and Free (+17,000).
In the fixed line, SFR gained 44,000 additional subscribers in the fourth quarter for a total of 6.4 million, including 45% in FTTH and optical fiber with coaxial termination which concentrated subscriber recruitments (+78,000).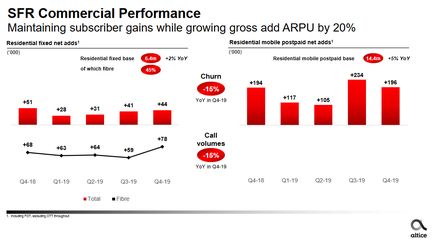 In fiber optics, the increase in the number of subscribers for SFR lags behind other operators. In the fourth quarter (FTTH), it was 245,000 for Free, 239,000 for Orange and 142,000 for Bouygues Telecom. Slower progress for SFR which is also found throughout 2019.
For all of its activities (telecoms and media), Altice France reports quarterly sales of almost 3 billion euros, up 13.3% year-on-year. It was 10.8 billion euros in 2019 (+ 5.9%).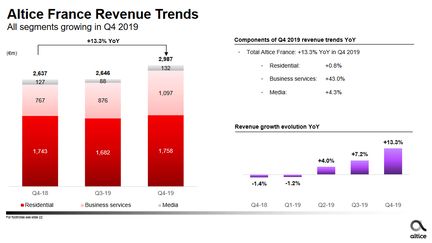 " For Altice France, our solid fourth quarter results were supported by growth in all segments, including year-over-year growth in residential revenues (editor's note) for the third consecutive quarter, which s now accelerates significantly in the first months of 2020 "says Patrick Drahi, founder of Altice Europe.
It is in this context and that of the coronavirus epidemic with the containment measures taken and an impact on the group's activity as with SFR stores, that the operator has indicated its intention to put 40% into partial unemployment of its workforce (mainly for the sales force).
This measure does not pass to the unions. " We denounce the opportunism and cynicism at work in the request for recourse to the administration of a massive partial unemployment measure, when all the employees could quite be working remotely ", Xavier Courtillat, CFDT union representative at SFR had reacted (Le Figaro).
Source: generation-nt.com