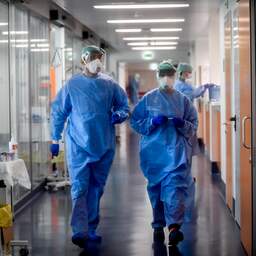 The latest figures on Saturday have made it clear that Spain is past Italy as the European country with the most confirmed infections.
Due to the 5,537 newly registered infections from the past 24 hours, Spain today comes to 124,736 infections in total. That is slightly more than Italy, where the infection rate increased by 4,805 to 124,632.
The United States is still by far the country with the most registered infections worldwide. To date, the U.S. authorities have confirmed as many as 293,481 infections, more than Spain and Italy, numbers two and three on the list.
Actual figures may differ because not all countries test the same way.
The coronavirus in short
The coronavirus mainly spreads from person to person via sneezing and cough drops. The chance of becoming infected through surfaces such as door handles is small. This chance decreases if you wash your hands often.

You can considerably reduce the chance of spreading by keeping at least 1.5 meters away from others.

The corona measures have resulted in an infected person infecting less than one other person on average. Previously, this so-called reproduction number was between two and three.

The vast majority of patients have mild (flu-like) complaints.

Almost all deaths involve the elderly or other vulnerable persons, such as heart, lung or diabetes patients. If everyone complies with the measures, this reduces their risks.

Read here what precautions you should take.
Source: nu.nl