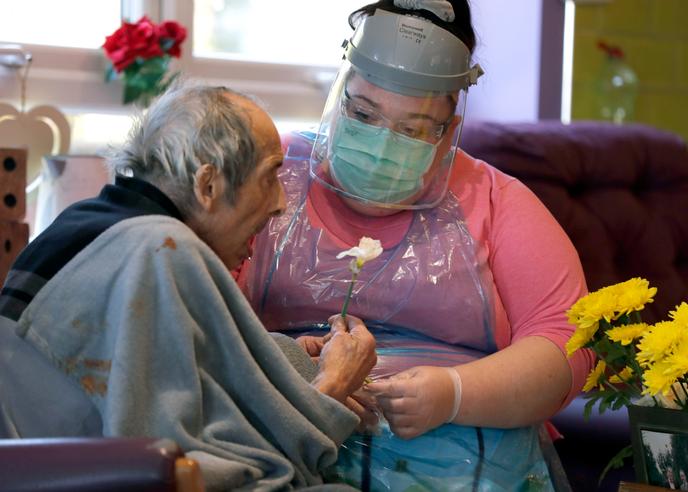 The media pressure was too strong: on Wednesday April 29, the British government finally agreed to make public, in addition to the daily number of coronavirus deaths in hospitals, the deaths in retirement homes and "communities" (people died at home). And unsurprisingly, the sad death toll from the pandemic in the UK has further increased: it is now 26,097 deaths, compared to the 21,678 cumulative deaths of the day before, just before the statistical revision.
This assessment is probably still below reality. The new British statistics only take into account people who died after being tested positive for Covid-19. However if the national testing system is rapidly increasing in power (around 80,000 tests per day on Wednesday), it remained very limited until last week (no more than 20,000 tests carried out per day in mid-April) .
On Tuesday, the National Statistics Office (ONS) released particularly enlightening weekly statistics: between early March and April 17, the independent agency recorded 27,015 "additional" deaths (caused by the non-Covid-19) for England and Wales compared to the average number of deaths recorded during this same period over the last five years.
Few tests in retirement homes
Adding up the deaths in Northern Ireland and Scotland, this "additional death" toll rose to 29,751 between early March and April 17. Are all these deaths attributable to Covid-19? Probably not, but we are in any case very far from the 14,500 cumulative deaths of Covid-19 recorded in hospitals by the government on April 17. "On about a quarter of death certificates, the coronavirus is not mentioned, but it is possible that these deaths are linked to a difficulty in accessing care", suggested Wednesday at the BBC microphone David Spiegelhalter, statistician and professor at Cambridge.
A large part of the differential is said to have come from deaths in retirement homes, where very few residents have so far been tested. Also according to the ONS, 7,316 deaths had been reported in these establishments during the week ended April 17, against an average over the last five years, for that week, of 2,154 deaths, or nearly 5,000 additional deaths. .
You have 51.28% of this article to read. The suite is reserved for subscribers.
Source: lemonde.fr