With the continuation of the Corona crisis in Egypt and the world, where many experts in the health field expect that there is a specific time period to end the Corona crisis, only after the world has reached a viable vaccine to get rid of that epidemic, and that Corona will remain with us and live with us for a long time, and for this The Council of Ministers, headed by Dr. Mustafa Madbouly, announced 6 new measures to cope with the Corona crisis in light of the lack of certainty that there is a certain time period to eliminate this epidemic.
In the government meeting today, Dr. Hala Zayed, Minister of Health and Population, presented the most important features of the government's plan to coexist in light of the continuation of the Corona crisis, especially due to the lack of certainty about the extent of the continuity of the Corona crisis.
The Minister of Health indicated that all countries have taken a set of precautions necessary decisively in state institutions and facilities, with a reassessment of the epidemiological situation of the Corona virus every two weeks.
The Minister of Health added that the plan to coexist with the continuation of the Corona crisis requires that there be societal solidarity with the government and all of its ministries and executive and oversight bodies through establishing controls and imposing immediate sanctions in the event that these measures are not implemented.
1- The first stage of the coexistence plan will include general guidelines that citizens and enterprises must adhere to, in addition to bringing mandatory standards that must be met in various sectors of the state, such as companies, institutions, malls, markets, the construction sector, factories and all means of transportation.
2- Minimizing the use of air conditioners.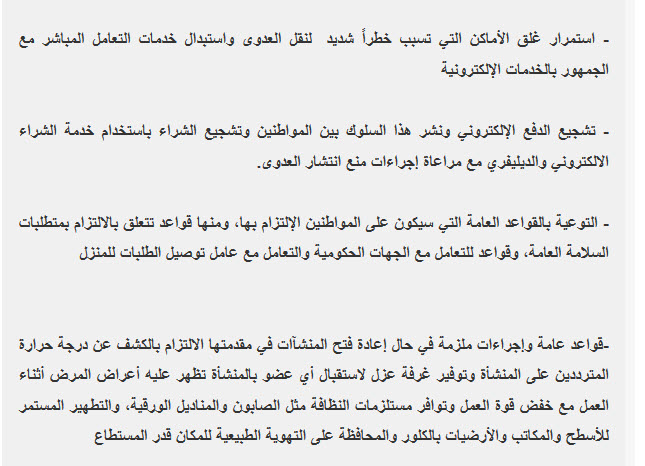 Source: misr5.com