Zapping Autonews When is a hydrogen car?
The seven-speed manual transmission for the 911 Carrera S and 4S is always combined with the Sport Chrono package. The Porsche Torque Vectoring (PTV) which controls the distribution of torque on the different wheels is also included and a new tire temperature indicator coupled to the pressure sensor is introduced. A function that appeared with the very recent 911 Turbo S, not functional in winter tire mounting. An automatic rev-match function is also associated with the manual gearbox with the Sport Chrono package: it allows you to perform a double automatic declutching on downshift to maintain the ideal engine speed. A system that we hope to disconnect because it may annoy more than one. Indeed, when ordering such a car with a manual gearbox, it is often to do the heel-toe or the double declutching yourself!
Other new products in the catalog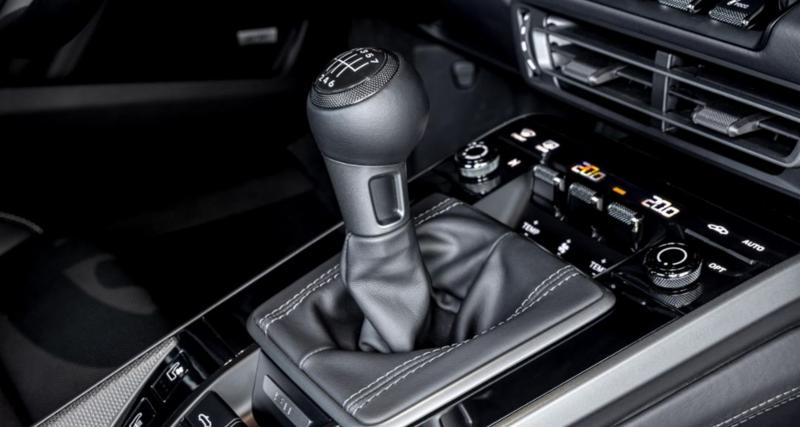 +112
On 911s equipped with the PDK gearbox, the InnoDrive system makes its appearance. This is an improved version of the adaptive cruise control which predictively optimizes driving speed up to three kilometers in advance. The system takes into account the speed of the car and the terrain thanks to the navigation data in order to act automatically on acceleration and braking. The Smartlift electro-hydraulic system which allows the front of the car to be raised by 40 mm automatically in the event of an obstacle on the road (retarder, etc.) is available in all versions of the 911. A new "930" leather pack Inspired by the first 911 Turbo and introduced with the latest 911 Turbo S is now available as an option for the 911 Carrera models. Finally, new full glazing (windshield, rear window and side windows) made of laminated safety glass, light and soundproofed, can be installed on all 911 coupes type 992.
Source: autonews.fr