IThey work in the hospital or in town medicine, they are generalists, nurses, emergency doctors, midwives: fifteen caregivers, on the front line facing the Covid-19 pandemic, have agreed to tell us about their professional daily lives. Every day, in this "Crisis Journal", The world publishes a selection of testimonies from these "white coats".
"A 61-year-old patient has run away! He was fed up, he only had a small dose of oxygen "
Thomas Gille, 38, pulmonologist at Avicenne hospital, Bobigny (Seine-Saint-Denis)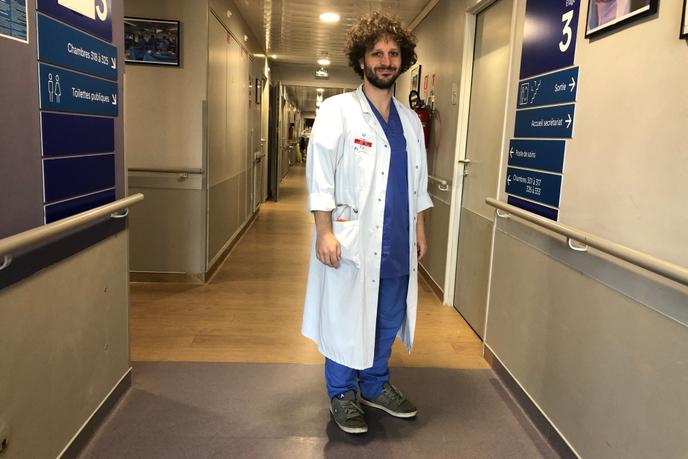 "Thursday I was "Bed manager", that is to say that I had the beep that centralizes the calls to manage the incoming and outgoing patients linked to the Covid-19. My phone rang all the time, we made ten entries, renewed a third of the coronavirus unit, the turnover is increasing. Nobody stays with us very long, right now. Either they improve quickly or they get worse and go into intensive care.
As there is no longer a single vacant place in intensive care in Seine-Saint-Denis, we transferred two patients to Seine-et-Marne and one to intramural Paris. Among them, a sixties gentleman whose wife was also hospitalized with us. She was able to return home earlier this week because her condition had improved. On the other hand, for her husband, it got worse, but he did not need to be intubated. But he went to intensive care just in case. We felt their family extremely anxious, it is difficult to have two loved ones hospitalized and developments that do not go in the same direction.
"Each resuscitation service tries to open additional beds but often, what blocks the most, is to manage to hire nurses and nursing assistants to monitor the patients"
The other patients displaced to free up space either went to a so-called post-acute department which manages the end of hospitalization, or went directly home because they were doing very well.
There is even one who ran away at the end of the day! The 61-year-old patient got fed up, got his stuff, and left at a time when we were busy in other rooms. He only had a small dose of oxygen left, he was told he would probably be going out this weekend, so he probably didn't take a lot of medical risks for him, but he did take a little for the others. He left unprotected, he was still a bit contagious, we would have preferred him to go home by ambulance and make sure we could stop the oxygen.
The weekend promises to be critical. Each resuscitation unit tries to open additional beds, but often the biggest obstacle is hiring nurses and caregivers to monitor patients. If the establishments fail to increase their supply of intensive care, the whole region will be saturated. There is a real concern: where are we going to do resuscitation in the coming days? We do not know if we will find the solutions quickly enough and if it will be enough. "
"If I could do without Betadine at Kärcher before going home, I would do it!" "
Julie Oudet, 39, emergency doctor at SAMU Toulouse (Haute-Garonne)
"Friday morning, Friday 27, it was calm in the emergency room. Colleagues forced me to lie down, my dark circles could even be seen under the mask. I got up tired, with a runny nose, I thought, that's it, this is the Covid-19. And then when I got home at night, I was no longer sick. As usual for me, it only takes one day of work and it gets better! When we are there, we are there, we no longer feel tired. After that, that's what I feared: when I saw the figures from the Regional Health Agency in the evening, the calm at home, it was because there were lots of patients in intensive care …
"Last week was so busy that I hardly saw my family. My mother is here. It's "the rear guard", I could not carry out my mission without it "
I have a colleague confined to his home, sick. I am replacing him today for half a guard at the SAMU. We charm him by telling him that he has a "common cold"! But I know very well that he is working from the bottom of his bed, re-reading protocols.
Last week was so busy that I hardly saw my family. My mother was there, from Provence, just before the confinement began. It's the rear guard, I couldn't do my job without it. I have a companion who already manages a lot of things on a daily basis, he is in telework, finds himself with the two girls, including a 4 year old bulldozer!
Of course we thought about the risks of contamination for my mother, but she understands the risks, and it's simple, she said: "Even if it's the end of the world and we all have to die, my place is with you… "From the very first days, we implemented barrier gestures. Of course, it is not easy when you come back from emergencies. If I could do without Betadine at Kärcher, I would! "
"This week, in my office, the big questioning of patients focused on chloroquine"
Laurent Carlini, 33, general practitioner and emergency doctor in Ajaccio (Corse-du-Sud)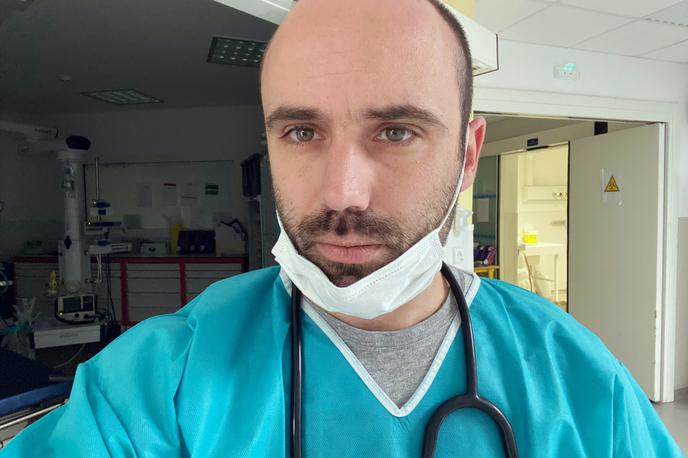 "At Ajaccio hospital, we're on the wire, it's a matter of days. For us, this is new, the management of these patients with Covid-19. For the dressing protocol, it's a bit of a mess, but we're starting to be prowled. It was a crucial step that took me six to seven minutes at first. Now I'm more efficient, I'm going faster.
"The good news is that some of my Covid-19 patients in town have recovered"
This week, in my office, in town, the big questioning of patients focused on chloroquine. With the media, this drug (promoted by researcher Didier Raoult against the Covid-19) has become very popular. The request kept coming up: "Can you prescribe it?" No, it's strictly forbidden to prescribe it in the city, it's only in the hospital, for patients who need oxygen.
On a personal level, I also have to manage the anxiety of my loved ones. My parents and brother worry about me, they know that I am twice as likely to get Covid-19 from working both in the hospital and in the city. I reassure them to the fullest, but we see that statistically, more and more young people with no history are affected, even if they are the ones who are doing the best.
The good news is that in town, some of my Covid-19 patients have recovered. This is the fault of the media: reporting only the deaths. Today, these patients are doing well. "
"We will come out of it growing up and empowered"
Pierre Hammoum, 25, intern in intensive care at Lariboisière hospital (Paris 10e)
"I had to do my third semester of internship in anesthesia but the services were reorganized due to the coronavirus crisis and I have been in intensive care since March 17. Working time has also been revised, now we work in twelve hours and no longer in twenty-four hours to be cool when we work at night.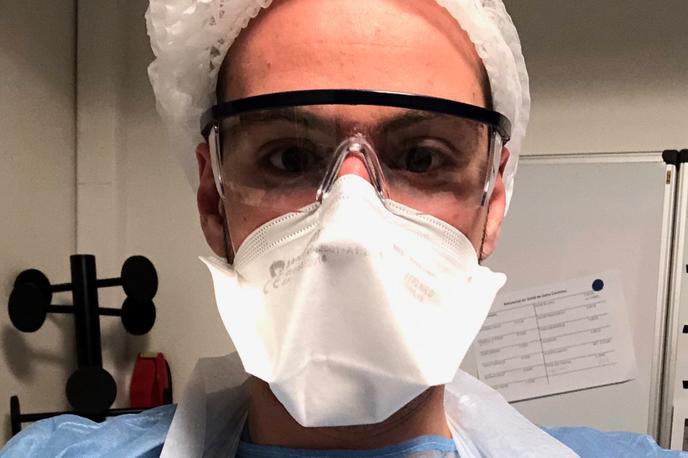 "We are used to treating serious pathologies in our departments, but we are not used to refusing patients, due to lack of space"
I am neither calm nor worried. Most worrying is the speed at which the crisis is coming. We are used to treating serious illnesses in our departments, but we are not used to refusing patients due to lack of space.
The most complicated thing is that there is still a lot that we do not know about this disease. This week, several patients, who were thought to be getting better, got worse again, without anyone really knowing why. Others manage to hold them with oxygen, without intubating them.
What strikes me the most is that the health system is overwhelmed and there is loss of chance for the sick. I'm on call tomorrow. It's a bit like a sports competition: you're both afraid of what's going to happen and "wanting" to be in it. As a young doctor, what I experience is out of the ordinary. We will emerge grown and empowered. "
"We see a fairly young audience arriving, the doctors are surprised at the age of the patients"
Angèle Vesin, 26, emergency nurse at the Alpes-Léman hospital in Contamine-sur-Arve (Haute-Savoie)
"The continuous flow of Covid-19 patients is starting to fill the ICU beds well. The hospital has 16 beds under normal circumstances, it has increased its capacity to 44 and will be opening it in intensive care cardio and recovery room in anticipation of what happens. We're now seeing a fairly young audience, doctors are surprised at the age of the patients. People generally understand why visitors are banned, but families show up, they try anyway … It's hard. Not everyone realizes that containment is a basic measure but has a real impact.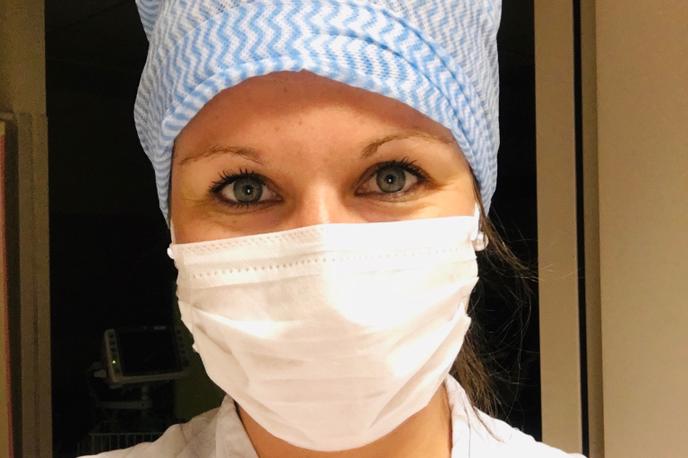 An intern has been designated to manage a 24/7 call duty number to provide information to families. He can tell them about the disease and its evolution. We, we try to inform relatives as much as possible when they drop the patient off and as soon as we can, we call them back to keep them informed. I don't know if we can still do that in two weeks. Tonight we had a death. We had time to warn. The family may have been there before the person left.
"We try to inform relatives as much as possible when they drop the patient off and as soon as we can, we call them back to keep them informed"
In the emergency room, for the moment, we can manage. We are fortunate to have had donations of equipment from companies in the Arve valley, many masks, charlottes, blouses which will be very useful in the coming days. Yesterday, the departmental council also released an exceptional fund for our hospital.
Nursing assistants, nurses, interns were contaminated and went to rest at home; they start to come back and are fine. Our team is very close, we are well followed by the doctors and there is a good atmosphere at work. The hospital management is behind us. They try to preserve us, to keep the days of rest between two guards. But our team would not be enough, fortunately we have many new nurses who come to help us. We therefore feel carried, and we are delighted to see people show their gratitude.
But we also say to colleagues that it takes a crisis for people to realize the extent of our needs. The paramedical professions are also very busy, nobody ever talks about it. We would really like that the day when all this is finished, the dynamics will follow. "
"I get up thinking Covid-19, I go to sleep thinking Covid-19"
Yann Bubien, 47, director general of the Bordeaux University Hospital (Gironde)
"The relation to time has changed, very clearly, very suddenly. Weekends no longer exist, they no longer punctuate life. Saturday and Sunday are similar to the days of the week.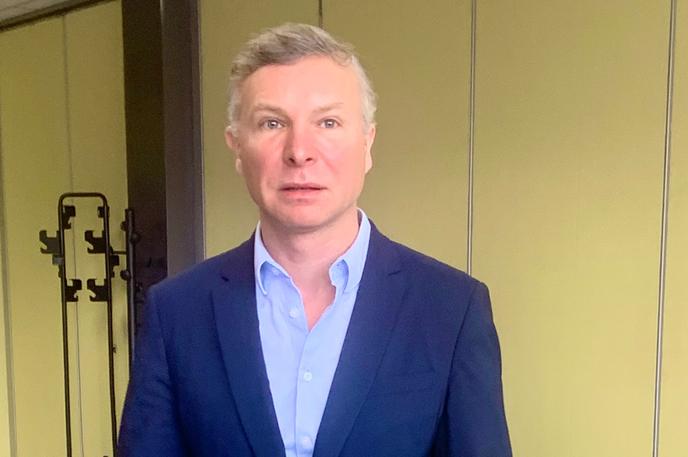 We who are a university hospital which deals with absolutely all pathologies in normal times, our existence, suddenly, is centered on the coronavirus. As if the whole hospital and the whole city had changed its nerve center. It's very disturbing. I get up thinking Covid-19, I go to sleep thinking Covid-19. Everything just turns around that.
"We got the message in the press that the CHU is still treating serious illnesses. We don't want there to be a loss of chance for those who stop getting treatment. "
Emergency room attendance has dropped sharply, between those who no longer travel for an emergency that is not really emergency, and those who fear – wrongly – of catching the Covid-19 if they come. Normally, there are approximately 220 emergency visits per day. There we are around a hundred. A 60% drop overnight.
However, people have not stopped having strokes! There are fewer car, outdoor, or sports accidents, but strokes, heart attacks, chronic diseases are still there. It is a source of concern, it has been reported in the press that the CHU is still treating serious illnesses. We do not want to see any loss of opportunity for those who stop seeking medical treatment.
Whole departments, the ones that were closed to free up beds, are empty. But the staff are not idle, they are either on rest or in training so that they can replace the "Covid +" staff. We operate 24 hours a day, 7 days a week, and it will last for several weeks, so we have to make sure that all the doctors and all the caregivers don't run out right away, and have teams that can work. It's both a long distance race and a relay race. "
Source: lemonde.fr