The morning pages of creativity
We are all artists – even if we don't know it. That's what Julia Cameron, author of the global bestseller "The Artist's Road," believes. Whatever your passion, Julia Cameron claims that we have simple tools to help her come to the surface and stand out.
The most important of these tools is what Cameron calls "morning pages." So what are the morning pages?
The morning pages are a very simple process, which Cameron herself has been following for a decade – and judging by the impact of her work, she is very effective! The morning pages are nothing more than three pages of continuous and spontaneous handwriting. The morning pages could also be called mental drainage, as this is their main function.
There is no right or wrong way to write morning pages. Their purpose is not to produce art, not even well-written texts. Writing is just a tool. Pages are the result of taking a piece of paper and writing whatever comes to mind. Nothing is stupid, pointless or weird. You can write whatever comes your way.
The morning pages are not meant to be witty – although they are often done. No one else is allowed to read them except you. In fact, it is better not to read them at first. Just write three pages and put them in an envelope – or write them on a spiral notebook, turn them over and don't rewrite them. Just write three pages, and another three the next morning and so on.
Sometimes, morning pages can be negative, incoherent, repetitive, angry, or indifferent. No problem! The anger and negativity that lurks in the pages stand between you and your creativity. By externalizing in this way thoughts that pierce our unconscious, we are essentially giving them a way out, freeing ourselves from them and restoring our creativity.
We are all deeply victims of a ruthless and perfectionist judge who makes critical comments, often disguised as truths. Remind yourself that these comments are not true. The morning pages will help you to escape the judge's poison, because there is no wrong way to write them and therefore his opinion does not matter. The morning pages will teach you to stop counterproductive self-criticism and let yourself think and write freely.
The morning pages are non-negotiable. Don't miss them, even when you're not in the mood to write them. Some of the best creative projects are done on days when you feel that whatever you are doing is boring.
If you can't think of what to write, write, "I can't think of what to write," and continue with this pattern until you have three pages.
They may not seem spiritual or meditative, but the morning pages are a form of meditation that offers insight and gradually changes our lives. We meditate to discover our identity, our place in the world. Through meditation we acquire and recognize our connection to an inner source of energy, which has the power to transform our outer world.
It is impossible to write the morning pages every morning and not come into contact with an unexpected inner force at some point. Writing in the morning brings a strong and clear sense of self. They are a path that leads us inside, where we meet our creativity and our creator. Without them, our dreams may remain uncharted. By writing them, the light of insight ties in with the power for expansive change. It is almost impossible to complain every morning about a situation every morning, for months, and not mobilize to take effective action. These pages lead us to solutions we never imagined.
So what are you waiting for? Make an appointment with that white notebook waiting for you in your office, and make the change you dream of yourself.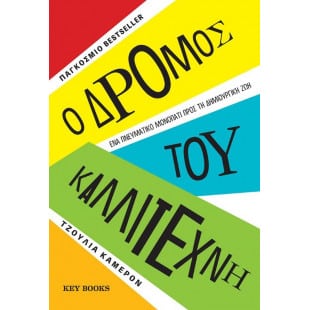 Julia Cameron's book The Artist's Road is published in Greek by Key Books Find it here
Source: enallaktikidrasi.com