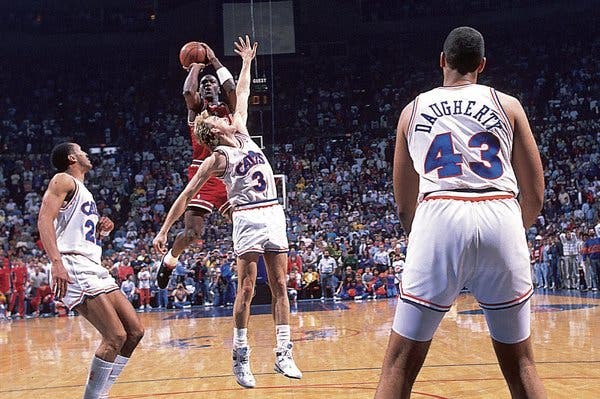 It was during a round table organized for the 50th anniversary of the Cavs franchise that they all got together. They are the actors of the 1988-89 season of Cleveland: Mark Price, Larry Nance, Craig Ehlo, Brad Daugherty and the coach Hall of Famer, Lenny Wilkens.
Echoing the documentary "The Last Dance" about the last season of Michael Jordan's Bulls, the veterans of the Cavs talked about "The Shot", the famous murderous shot of "His Airness" during Game 5 of the 1989 playoffs.
As the documentary recalls, the Cavs outrageously dominated the Bulls during the regular season: 6 to 0! "We beat them every time we played them", recalls Mark Price for Sports Illustrated. " But we were not in good health (for playoffs). People don't remember I didn't play the first game in the series because of a hamstring injury. They stole this match from us. "
The return of Mark Price to Game 2 puts the Bulls back in the ropes. But Cleveland must then run behind them. "They had the opportunity to complete the Chicago series at Game 4. We had to win and we did it, we brought the series back to Cleveland. Michael had all the whistles, we all know ", adds Mark Price. "I found myself defending on him under the basket and they took a shot. I grabbed his arm, he couldn't jump for the rebound and the officials didn't whistle. And we won the match. He was so pissed off, and I was so happy (laughs). "
Craig Ehlo, from hero to victim
However, it was Michael Jordan who laughed last, with this iconic shot for the win, and the famous kick in the air which gave the illusion of bringing Craig Ehlo in the background.
But not without the resistance to the end of the Cavs. With this shot to go back to 3 seconds from the end on a simple "back and forth" with Craig Ehlo who made the throw-in, passed so quickly from hero to victim. "We were at -1 and we designed a system. We scored direct ", details Lenny Wilkens. "But it was too fast! "
And for good reason, after the time-out, Michael Jordan will manage to recover the leather, place two dribbles before taking off forever for this victorious jump shot. Larry Nance volunteered to share defensive responsibility with Craig Ehlo, while in "The Last Dance", Ron Harper said he wanted to defend Michael Jordan on this action.
"I apologized to the coach because he trusted me defensively", launches Larry Nance. "He put me there to keep Michael from getting the ball. He feigned me towards midfield and I bit. I should have let him go and defend on him at that level and we would have been fine. But hey, that's not what happened… "
Source: basketusa.com