According to the director of Kaunas District Municipality Administration Šarūnas Šukevičius, who coordinated the return and distribution of the returnees at Kaunas Airport on Tuesday evening, about 180 people returned by plane from London and Edinburgh. There were also foreigners who were taken over by customs and police officers from the municipality's knowledge.
"Different Lithuania. Joniškis, Kaišiadorys, Lazdijai, Vilnius, Klaipėda … We are still making summaries of those who come from what district. Because yesterday's handling was quite difficult – one plane landed one after another (the arrival time of the planes was only 5 minutes apart – ed.). We took a little longer at the airport, we planned faster. We lasted about 3 hours in total. It is good that there is a hotel and a guest house close by, where most of the people are accommodated. The others were taken to a dormitory hostel in Mastaičiai and Kumpiai village by the highway, "said Šukevičius, who said that the returnees were accommodated in 4 different accommodation establishments.
According to him, Kaišiadorys, Lazdijai and Klaipėda brought their residents to the area yesterday. Jonava municipality had already taken care of the hotel (Air Hotel near the airport) to returning residents of their area. It is likely that they will not be transported to Jonava – they will stay at this property for the duration of their self-isolation. Kaunas City Municipality promises to take its citizens from temporary accommodation today – coordination with representatives of other municipalities is ongoing.
According to Šukevičius, the returnees included families with children.
One woman complained of health
Asked if there were people with obvious ailments after the airport check, Šukevičius mentioned one woman who complained about her being cold. She demanded to call her for an ambulance.
"Maybe that's how people cheat, maybe that's how they wanted to avoid forced isolation in a hotel. People take all kinds of measures. I don't know. Medics were called to her. If the woman had had the temperature, she wouldn't have passed the checkup just to get off the plane, "he said.
There were plenty of family members who came to meet Kaunas airport. Many resented this order, asked for food to be returned to them, and took over their large suitcases.
"There were many situations that the leader of the situation did not understand. There were angry, muttering. There was everything. I hope no one went to the hotel and picked up their children from there, "said Šukevičius.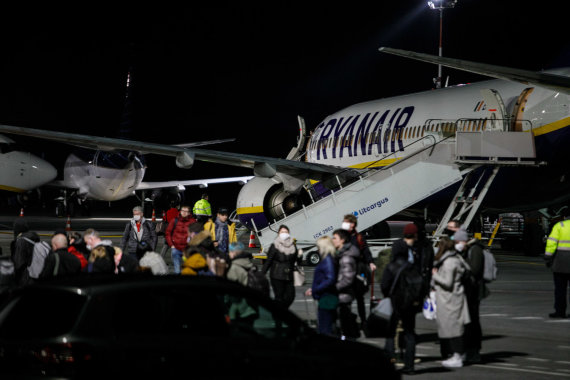 Erik Ovcharenko / 15min photo / Kaunas airport
Wanted single rooms
Some of the countrymen who returned to Vilnius on Tuesday behaved aggressively, had a heavy consumption of alcohol, and finally reported a night of rioting at one of the accommodations, including the use of a knife. Did the Lithuanians landing at Kaunas airport also expressed their great dissatisfaction? According to Šukevičius, similar incidents at Kaunas airport were avoided.
"People are young, intellectual, decent, coming from studios. Apparently many students returned. The biggest problem was that everyone wanted to live one room at a time. It took a long time to convince people that the conditions were good, that one night would have to stay in a double room. We offered to group, talk, talk. Everyone felt shy.
Time has been dragged by the fact that people thought we were trying their patience to accommodate as they please, but there were no conditions. It was hard to convince. Everyone wanted single rooms. We couldn't guarantee it. This is a temporary accommodation that should end today. People should go outside their municipalities and isolate themselves, "Wednesday morning 15min stated the director of Kaunas District Municipality Administration.
Later, people became aware and split up to live in two. According to Šukevičius, when other municipalities pick up their residents, Kaunas residents should be distributed one room at a time.
"There were those who paid for single rooms in a hotel and separated themselves. Asked where to stay and through Booking he signed up, "he said.
Photo by Marius Vizbaras / 15min / Šarūnas Šukevičius
A security guard on duty at the accommodation was hired. He thanked the interviewer and the shooters and fire service personnel for managing the flows at Kaunas Airport. Buses to the accommodation were accompanied by police forces late Tuesday evening.
"We hope that people did not spill," Šukevičius hoped.
Don't know how much it will cost
The costs of accommodation and meals for those who are forced to stay are borne by Kaunas District Municipality. Šukevičius did not wish to disclose how much the implementation of the Government's order would cost the municipality, but mentioned that quite a few.
"I'll tell you at the end of the quarantine how much it will cost us. The figures are considerable. Negotiations with accommodations are not easy. There were those who refused to help, there were those who doubted. Difficult. The challenge is big. Today we will have two more flights – about 150 people will return from Norway and Sweden. If yesterday's returnees stay with us longer, if the municipalities don't come in time to pick them up, I'm afraid we won't have anywhere to put people. We are now maybe 70 percent full. of intended locations. After all, we were ready for the self-isolation of the residents of Kaunas district, and gave them priority, "said Šukevičius.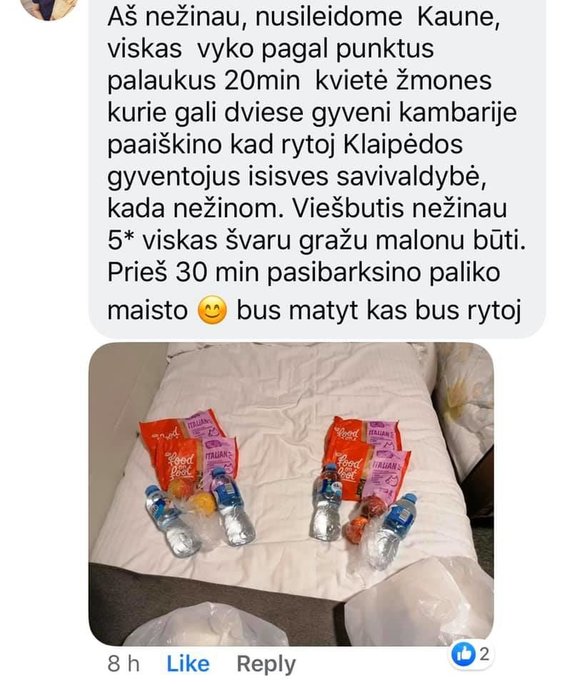 Reader's Photo / Feedback from a Forcibly Isolated Person in Kaunas
The biggest challenge will be the return charter flight from Bangkok, Thailand on Friday, with over 300 with limited accommodation options.
Asked what was the most difficult, Šukevičius replied that in such a short period of time he would prepare for the implementation of the order passed on the eve. It was also difficult to mobilize people.
"The hotels had to be consulted quickly to the end. The people's reaction was also not easy to control. Lots of reproach. People complained that this arrangement was not appropriate. "Now I stand at the airport with everyone, take the same bus, live with those who may be infected. And I would go home and be isolated, "people said. They feared getting infected that awkward. There was no aggressive attitude. Older people did not understand what was happening at all. Maybe he pretended he didn't know, I don't know, "said Kaunas District Municipal Administration Director.
There was no shortage of reproaches to those returning to Vilnius because of the nourishment they had given – a dry portion unsuitable for vegetarians. What about Kaunas?
"We were ready for two big sandwiches, two water bottles and two apples. We provided packages to transport people to hotels. Those sandwiches were full and had to be enough for breakfast. How anyone eats is clear, "Šukevičius replied.
During the night and Wednesday morning he said he had not received any requests or complaints from the residents. At present, only municipalities are requesting information on how many of their residents have returned on these two trips.
"The biggest problem is those lists. It is impossible to know what kind of people are flying. If these people were identified beforehand, transport to individual regions of Lithuania could be organized immediately. People should not be bothered with temporary accommodation, they would be transported to their places of self-isolation immediately. The lists we received late, it was difficult to find where they were at all. Presented by the police, "said Šukevičius.
Kaunas people feel forgotten
According to Edmundas Mališauskas, Communications Advisor to the Mayor of Kaunas District, the majority of municipalities promptly take their residents for self-isolation. There is particularly constructive cooperation with Jonava, Lazdijai, Kaišiadorys, Telšiai and other municipalities, but there are problems with Kaunas City Municipality.
"Unfortunately, we have other examples. Kaunas City Municipality Emergency Operations Center was approached by Kaunas City residents who claimed that Kaunas City Municipality did not take them. The reason is undeclared residence. "I have a home in Kaunas, I can isolate myself. I cannot apply electronically because I only have a foreign bank card. What should I do? ", Asked Kaunas Mary," E. Malishauskas raised the problem.
Currently, there are approximately 40 Kaunas residents in accommodation establishments of Kaunas district. Among them is the place of residence of those who have not declared their place in Kaunas.
"Our buses are ready. As soon as we have received the lists with the names of Kaunas residents, we will go and bring them to Kaunas and make accommodation. We can assure you that all residents of Kaunas city will be properly cared for in accordance with the decision of the head of the Emergency Operations Center. " 15min again on Tuesday said Tomas Jarusevičius, public relations advisor to the mayor of Kaunas.
Kaunas municipality previously brought ten people from Vilnius.
According to a decision issued by the State Emergency Operations Center on March 23, municipal administrations with international border crossing points are obliged to transport returnees from foreign countries to special premises for one day and arrange further transportation to the premises designated by the municipal administration of the place of residence.
The order of Health Minister Aurelius Veryga, head of state-level emergency operations, came into effect Tuesday night.
It is also stipulated that residents with mild coronavirus should be transported to municipal facilities.
Source: 15min.lt