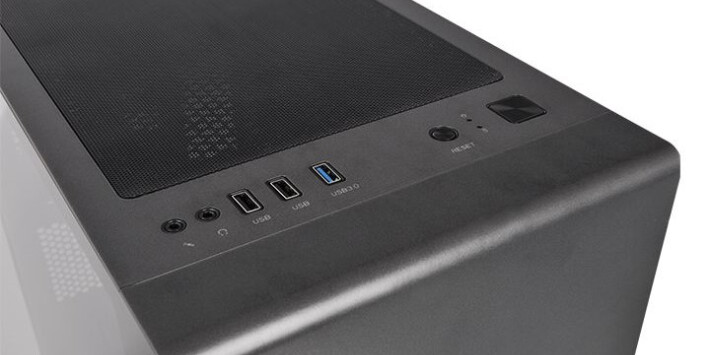 Behind the side panel of the S100 TG glass, you can pack systems based on up to a microATX-sized motherboard.
The shell of the Thermaltake 441 x 220 x 411 millimeters, empty 6.1 kilograms, fell off, S100 TG which, as the introduction has already shown, can accommodate microATX or smaller motherboards.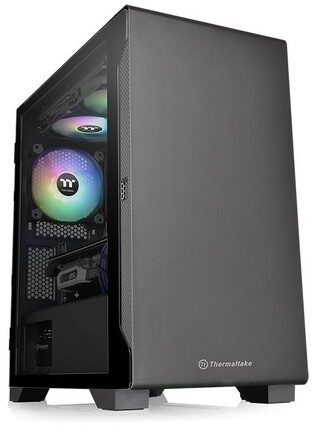 (+)
The board has a total of four expansion card slots, while the designers have maximized the height of the installable processor coolers by 165 and the length of the graphics cards by 330 millimeters. The steel and tempered glass housing is cooled at the factory by a single 120 mm fan at the rear, which can be supplemented with additional air agitators or radiators as listed in the table below:
name of Product
Thermaltake S100 TG
Available versions
black
Size (mm x H x d)
441 x 220 x 411 mm
weight
6.1 kg
material
steel, tempered glass, plastic
Installable motherboards
microATX, Mini-ITX
Number of seats 5.25 "
no
Number of 3.5 "seats
2 pcs
Number of 2.5 "seats
4 pcs
Number of expansion cards
4 pcs
Factory-fitted fans

– Rear: 1 x 120 mm

Installable fans

– Top: 2 x 120/140 mm, 1 x 200 mm

– Front: 2 x 120/140 mm

– Rear: 1 x 120 mm

Installable radiators

– Top: 240/280 mm long

– Front: 240/280 mm long

– Rear: 120 mm long

I / O panel connectors
1 x USB 3.0, 2 x USB 2.0, 2 x 3.5 mm jack
Installable processor heat sink
max. 165 mm high
Installable graphics card
max. 330 mm long
Installable power supply
standard ATX, max. 160 mm long
Extras

4 mm thick tempered glass side panel, magnetic dust filters
The interior of the device, which is covered with magnetic dust filters at the bottom and top, is divided into two chambers, logically the upper section is the location of the motherboard and the components installed in it, while the lower chamber can accommodate power supplies up to 160 mm long. The latter can be used in two sizes, two of the 3.5 ", which can be housed in a separate small frame, and a total of four of the 2.5" can be mounted in the hard drive cage and on the back of the motherboard tray.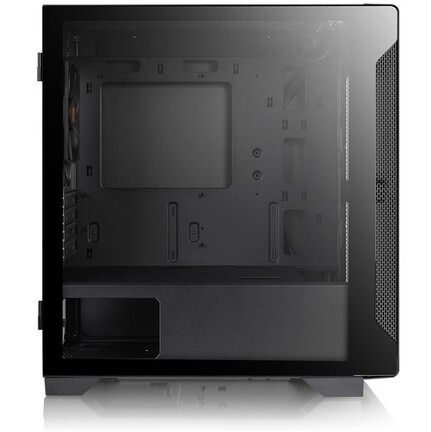 (+)
The I / O panel is located on the top of the housing, where, in addition to the reset and power buttons, there are two jacks and a USB 2.0 port, as well as a USB 3.0 port.
The Thermaltake S100 TG is now available from well-known U.S. online stores for $ 60, but we haven't found information on a European launch yet.
Source: prohardver.hu