He SEAT 600 It was a car that completely changed Spain since the first unit left the Barcelona factory on June 27, 1957. Its arrival on the market meant for many Spaniards the possibility of finally acquiring their own vehicle, leaving aside the collective transport as a mobility solution.
Today there are people who still have a SEAT 600 and who uses it, and this is what two people tell us about him who continue to maintain a over 60 years.
Mechanically, the SEAT 600 was an extremely simple car. In the first generations it mounted a 633 cc four-cylinder engine that only it developed 21.5 CV at 4,600 rpm, a very basic engine although it already had liquid cooling.
Over the years, the displacement increased to 767 cc, and the power reached 28 hp at 5,500 rpm, which undoubtedly meant a whole deployment of means to move the little more than 600 kg weight that was on the scale.
Despite its simplicity of manufacture, there are a number of points that every SEAT 600 lover must keep in mind when maintaining it, if what they want is to use it regularly and circulate with it.
You must pay attention to these points to have a SEAT 600 circulating
Fuel tank, which initially had 27 liters of capacity and later grew to 30 liters, deserves some consideration. You must pay attention that it is in perfect condition, without leaks or humidity or internal corrosion.
Regarding the set-upThree elements claim our attention: plates, capacitor and spark plugs. If you manage to keep them in order, it is very likely that you will have few mechanical headaches.
Use motor oil with the right grade, which is 20/50, it is another essential point in order to keep the engine in perfect condition.
Antonio is one of many drivers who grew up driving a SEAT 600, and even today he maintains and moves relatively frequently in one of the cars that passed by his family. In fact, he does not hesitate to say that "it is the car that has marked my life. I remember family trips within the 600 as authentic life experiences, because everything inside was lived in a very intense way."
As for what we must take into account when considering having a SEAT 600, it is blunt: "Nowadays people are very well off, it is no longer usual for cars to break down and nobody even knows how to take a wrench "he reflects, and immediately warns:" If you are going to ride with a SEAT 600 you must be prepared for everything and not be in a hurry "*. Although later it clarifies that the 600 "is not usual that it breaks down if you do a correct periodic maintenance in a workshop that knows the subject."
The water radiator It is another element to pay attention to. It must be very clean, and in this way it is more likely to cool the motor well so that we do not suffer mechanical breakdowns due to excessive temperatures.
Due to the lack of space in the engine compartment, the radiator is located next to the block. It is cooled by means of a water pump that is coupled to the motor through an arm, in the center of which the fan rotates, oriented to reverse gear.
Finally, it is necessary to take into account the age of the car and the possible wear of elements such as the hubs and drive shafts. These elements, together with the brakes and dampers, are essential for daily driving a SEAT 600 be more than just an exercise in faith and a journey back in time.
Where can I find parts for a SEAT 600?
To succeed in servicing a SEAT 600 and be able to use it today on a daily basis, finding the right parts is key.
SEAT no longer has official parts for a 600 in the after-sales areas of its dealerships, which is logical, taking into account the age of the SEAT 600s that are still moving around Spain today. However, there are many companies that have specialized in parts for this classic car.
Firms like Atrezzauto, Blackcat Garage, Recambios Martorell, Recambios Pascual, or Recambios Tamarit, to name just a few, have enough stock to supply almost any part that the owner of a SEAT 600 may need.
It is a historical vehicle
At the legal level, we must take into account some aspects. The main one, quite obvious, is that the vehicle has to comply with all current regulations, and have all the legal requirements to be able to drive.
An important factor that we must take into account is that, due to its age, the SEAT 600 can be classified as historic vehicle. And as such, you will enjoy a series of advantages that will make life easier for us.
Historic vehicles must be at least 30 years old, and must be preserved or restored, always maintaining their originality. Thus, within the historical vehicles modifications or tuning are not allowed, even if it is vintage.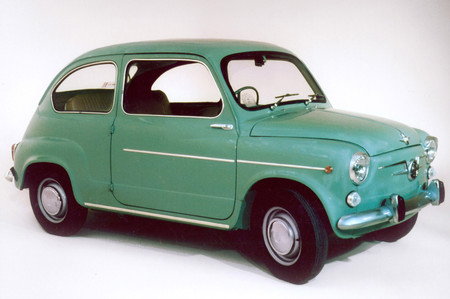 On the other hand, vehicles classified as historical must undergo periodic technical inspections under the conditions established for their cataloging according to the Regulation of Historical Vehicles, approved by Royal Decree 1247/1995, of July 14.
The minimum frequency established is as follows:
Vehicles up to 40 years old: every two years.
Vehicles from 40 to 45 years old: every three years.
Vehicles over 45 years old: every four years.
When cataloging a SEAT 600 as a historic, it is issued a specific license plate of this classification, with an H as a badge of historic vehicle. That means that the car loses that pretty license plate with a provincial badge that suits the 600 so well, and how much it does when it comes to maintaining its originality.
However, there is an alternative, and that is to put a yellow oval badge with the black VH inscription on the rear of the vehicle. In this way, the 600 can retain its original registration. Logically, if you use the registration of a historic vehicle, it is not necessary to use this badge.
Although it is not likely in the case of a SEAT 600, if the vehicle came from abroad it would also be assigned two license plates: the specific one for a historic vehicle, with the H, and a modern one, with current numbering.
Juanjo and the SEAT 600 E that was bought for practicality
The case of Juanjo, a native of Pamplona and resident in Madrid, where he works as a human resources manager for a large multinational, is a curious profile among SEAT 600 owners. "I ended up having a SEAT 600 by chance, we could say," Explain.
Juanjo had always wanted to have a classic car, "and the 600 was the one that best fit my budget and aspirations." Thus he assures it, therefore ruling out any sentimental link with the small Spanish utility vehicle.
"When I started looking for a classic that could fit my budget, which did not exceed 2,000 euros, I wanted the SEAT 850, but there were few." In this way Juanjo expanded his search. "You find I valued the Volkswagen Beetle and the SEAT 600, because they were the two models with the largest offer."
Why did you opt for the small SEAT utility vehicle? Simple: he put both cars to the test: "When I went to test the Beetle, at a roundabout in full support the door opened for me and I almost flew out, so I decided the 600 was my car." Without further ado.
Juanjo uses his SEAT 600 regularly. Not as a daily car, but as a second car "to go down to the center of Madrid, to go on an excursion on Sundays …". He ensures that his children enjoy "a lot" every time they get in the car: "it is a unique experience," he says.
His first experience with the SEAT 600 stuck with him: "I remember it was raining, and I had to stop at a zebra crossing because some pedestrians were going to cross," he says, while making comparisons with current cars: "Accustomed to the brakes of modern cars with ABS and so on, I remember I had to do a lot of force to make the car stop just before the zebra crossing. "
These differences are also manifested in details that sometimes go unnoticed: "I also remember that my attention was drawn to how little the windscreen wipers were cleaned, both on the total surface area and the slow speed with which they moved, which was certainly faster the faster the car went. "
As for the maintenance of the SEAT 600, Juanjo confirms what everyone says: "I have not had to do anything mechanically beyond the touches that I wanted to do, such as chrome the hubcaps, put on the mustache or change the rearview mirrors because the ones that I brought when I bought it, when I picked up speed doubled inward. "
He explains all this in the past, because a while ago Juanjo sold his car: "After having enjoyed it for 4 years, it was already becoming a burden to remove it, keep it in running order, pass the ITV, and that despite the fact that my children they begged me not to sell it. " In this case, the pragmatic vision defeated the emotional vision.
Thanks to Antonio, Juanjo, SEAT's Department of Historic Cars and to Clásico Vigo for their help in preparing this report.
Source: motorpasion.com