It has become obvious to many of us that the way we live and work has changed radically in the last few weeks, since all of humanity has been facing the coronavirus crisis, and we will see and feel the effects of these changes for a long time to come. goals.
We are going through a complicated period, in which we are assaulted from all directions by contradictory and alarmist information. Normality, as we knew it, is over, and now we are living a new normal. Thus, Thrive Global Romania meets the need felt throughout society to find accurate, balanced information from verified sources, and launches Assistant Thrive, the new Facebook messaging service, meant to support us, step by step, in our endeavor to ensure our mental and physical well-being. It is designed to help society get through the coronavirus crisis more easily, with the help of micro-steps, ie simple and accessible tips designed by Thrive specialists and experts.
Thus, anyone can learn how to work efficiently from a distance, how to rest, what to eat or how to manage relationships with partner, children and parents, in short how to adapt to the new normal, maintaining inner balance and controlling stress level.
Thrive Assistant is launched for the first time in Romania, representing a world premiere in the Thrive Global network (existing platform in the United States, Greece, India and Australia).
How it works:
Designed as a dialog box on Facebook Messenger, a platform that millions of people have access to, Assistant Thrive it works as a conversational interaction, which users perceive as a conversation with a real person or even a friend. Through this communication channel, users find well-structured, correct, balanced and verified information that responds to their main concerns from this period, from health to lifestyle. And we refer here to: wellbeing (to stay healthy and strong during the crisis), working from home (maintaining concentration and productivity when working remotely), relationships and family (harmony with your partner, parents and children in the new situation). In addition, the new service gives our community the opportunity to discover relevant articles on the site thriveglobal.ro, selected by our editors according to users' areas of interest and suggested during the interaction on Facebook Messenger.
Users will receive tips for better sleep, healthy eating, managing stress and loneliness, routine and concentration, but also managing relationships with colleagues, partner and youngest family members. The Thrive Assistant instantly answers questions and messages, with the help of Thrive specialists and experts, all in a very friendly, easy, intuitive and interactive way.
Users can choose to receive a daily set of tips, structured, in fact, like some micro-steps, ie tips delivered every day, easy to implement, with a mechanism easy to adapt to the needs of each of us, designed with the help of Thrive Global experts (psychologists, psychotherapists, nutrition experts, trainers and coaches).
By providing these micro-steps, we take on the mission of supporting society, making the new normalcy easier to manage, and making all our resources available to the public to combat the stress and anxiety caused by isolation and social distancing.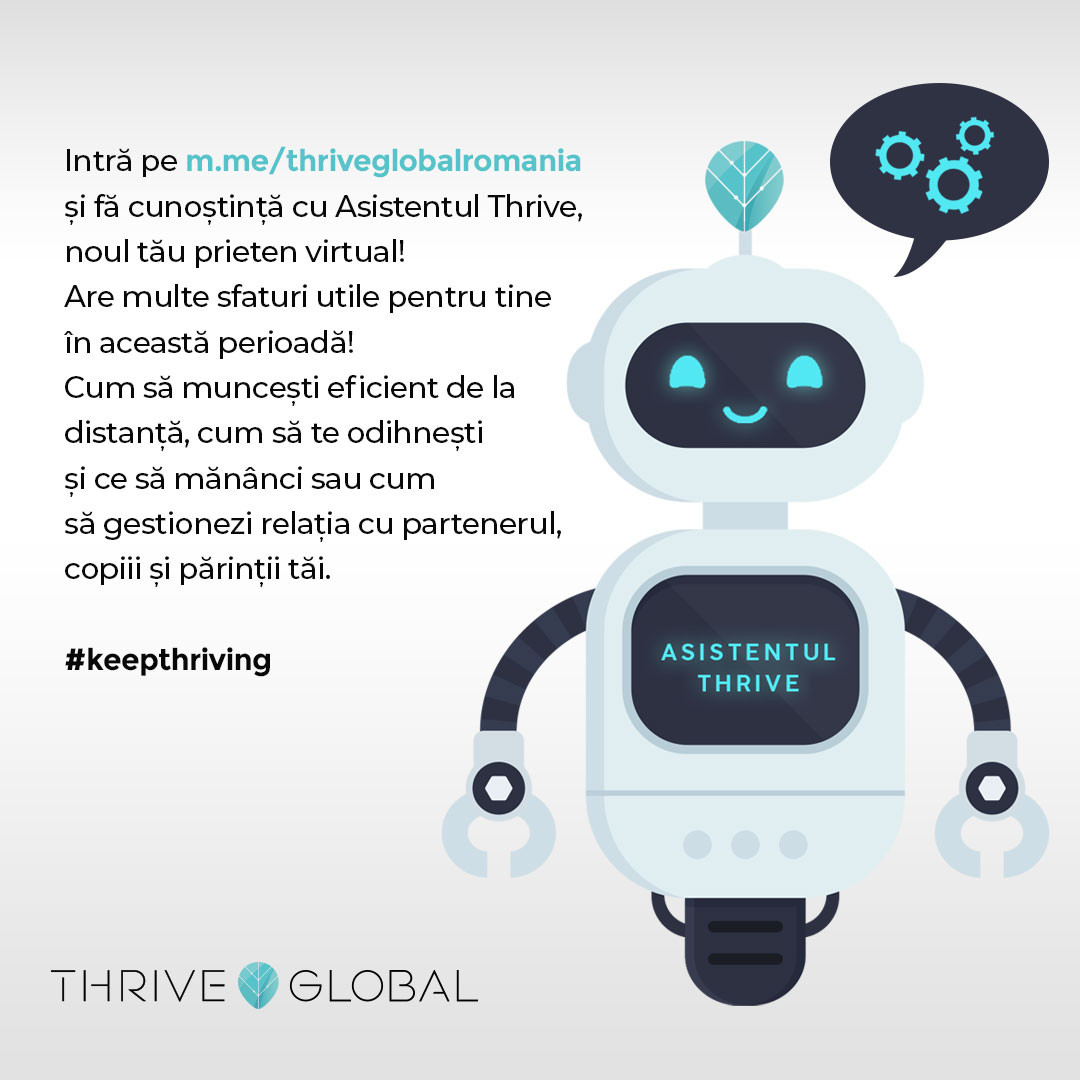 The Thrive Global platform, launched by Arianna Huffington, is the world leader in wellbeing, with the main goals of combating the global burnout epidemic and redefining success. Starting in January this year, Thrive Global was also launched in Romania, being enthusiastically received both among the online community in Romania and among specialists in the field of psychology, human resources, finance and parenting, as evidenced by the numerous articles posted on our website, written by our collaborators: experts in the mentioned fields, psychotherapists, coaches and trainers, articles that enjoyed the interest of the local digital community. Platform thriveglobal.ro is committed to becoming a credible, accurate and balanced source of information to help society overcome the crisis caused by COVID-19, by combating the stress and anxiety that comes with isolation and social distancing.
Source: iqads.ro