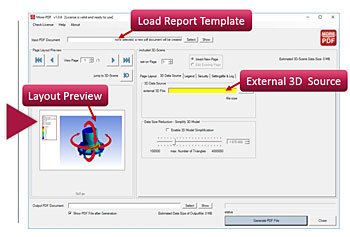 Companies Visual Technology Services, known by PDF3D, and 7tech, An engineering services provider, jointly announce More-PDF, the new extension plug-in for ANSYS Workbench – the standard CAE analytics platform. The new More-PDF plugin creates multi-page predefined 3D PDF documents directly from the Workbench and is also available as standalone for other post-processors. More-PDF graphical output is optimal for technical analysis reports and workflows, and provides complete reporting. By integrating 3D PDF generation into the Workbench and related postprocessors, the More-PDF menu provides a preview for a multi-page report or drawing page template with visual location of 3D viewports and info labels.
For mechanical analysis, the resulting shapes are exported directly. A separate menu can be used for ANSYS CFD-PrePost (CFX, Fluent), TurboGrid network generation, ANSYS Electronics Desktop (Maxell and HSFF) via AVZ from ANSYS Viewer, or VRML results for Workbench users including Mechanical-APDL plans.
Thanks to five times excellent compression of 3D PDF files via AVZ, reports are easier to share, saving storage and transporting documents. To illustrate excellent file compression, a typical 900MB mechanical stress result can be saved in a 45MB ANSYS-AVZ file, while publishing to 3D PDF results in a much smaller 9MB file with the ability to be viewed by a standard 3D PDF Reader. For even greater file reduction, More-PDF can invoke a 3D mesh filter for post-processing.
More-PDF helps designers create comprehensive interactive visualizations that allow you to view what-if-type studies, value queries, zoom in on details, explore detailed properties of simulation results, collaborate with colleagues and achieve a comprehensive understanding of analysis results in the context of a full report. Colleagues and clients are able to add comments to notes, save and share views while recording snapshots of simulation results in a standard PDF document format.
More-PDF is available on the web more-pdf.com with a free demo version planned for the ANSYS App Store.
Source: cad.cz