Friday, 21 February 2020 13:05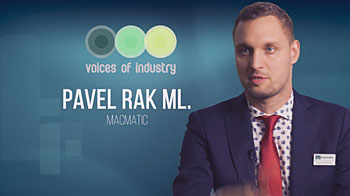 Next episode Voices of Industry is dedicated to Pavel Rak, Jr., from Macmatic, which was founded in spring 2008 as a family business. Thanks to strong relationships and great efforts from the founders, the company overcame the crisis and laid the foundation for dynamic development that resulted in the establishment of its own brand for CNC machine tools. The company is actively engaged in the sale of new CNC machine tools. We offer vertical and horizontal machining centers for power and speed machining, portal machining centers, five-axis machining centers and high-speed CNC machines for drilling, threading and milling.
Furthermore, CNC machining centers with pallet exchange, power lathes with straight bed, productive lathes with inclined bed, or vertical (carousel) lathes. With gradual development, the company began to sell its own brand of accessories for CNC machine tools. In this product group Macmatic offers powerful macmatic Aspira extractor hoods and macmatic Therma thermal clamps for fast, accurate and rigid tool holding.
Macmatic currently supplies macmatic and Akira Seiki CNC machine tools to the Czech and Slovak markets. Learn more about the company HERE.
Source: cad.cz