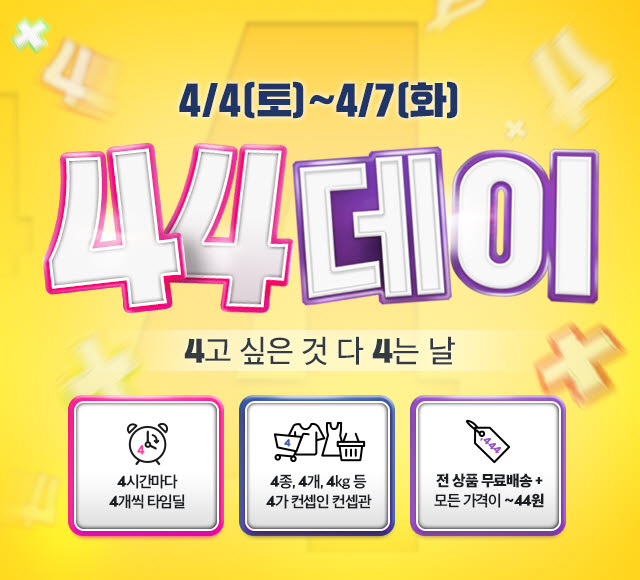 Wemef is running a special day '44 Days' using the number 4 on April 4, the same day as the month.
On the 4th and 7th 44th day, Wemef announced on the 3rd that it will sell super special products with the concept of 'I want to 4, and 4 is the 4th day!'.
Time deal products are released every 4 hours from 0 o'clock on the 4th. The main products are: △ Triple filter disposable mask Individual packaging (white) 444 won △ Male and female fake socks 1 + 1 444 won △ Food Lella Chicken Karaage and 4 other 4444 won △ Happy Bath Perfume Body Wash 500g × 4 9444 won △ El 14K Jewelry Spring New Exhibition (ELGPEE221, etc.) KRW 12,444 △ Pasteur New With Mom 1, 2, 3 stage 750g × 3 cans 4,4444 KRW △ Casani Franzo pressure cooker 8ℓ Induction gas combined use 4,444 KRW.
All products on 44 Days including Time Deal are sold at 444 won, 4444 won, or 4,4444 won to match the end of the price to 44 won.
In the mart and fashion categories, a dedicated hall is opened in which the product composition unit is set to the number '4'. Products that are tailored in 4-pack units, such as 4 packs of diapers and 2 + 2 sets of socks, are presented at a very special price.
"Special day is preparing for customers to enjoy shopping with the concept of using numbers every month," said Jaeyun Lee, Special Manager of Weimeff. It was configured to be able to purchase at a special price. "
By Kim Jeong-hee, reporter jhakim@etnews.com
Source: etnews.com