Korea's market growth increased by 23.18% to 12th place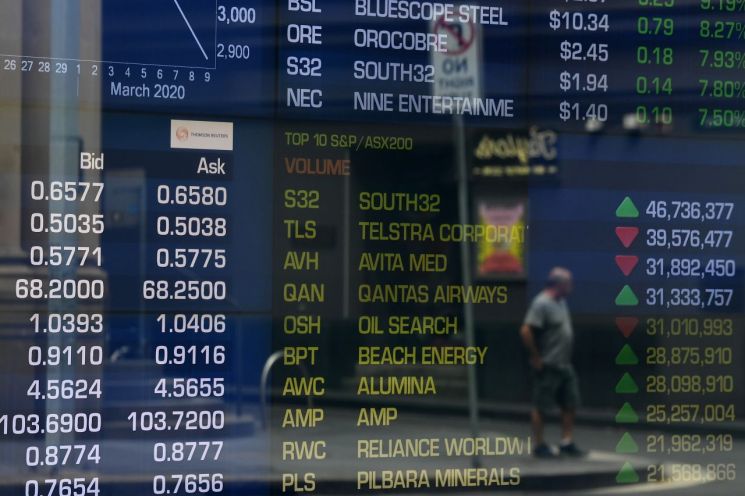 (Image source = EPA Yonhap News)
(Reporter Jae-Hee Kwon, Asian Economy) The global market capitalization has increased by nearly 20%. It has been a month since the new coronavirus infection (Corona19) shock hit the bottom.
On the 30th, as a result of Bloomberg's market capitalization of the stock market in 86 countries, the market capitalization of major countries on the 28th was $ 73.7288 billion. This is an increase of 19.72% from the previous low of $ 61.5849 billion on the 24th of last month, an increase of $ 12.1438 billion (about 4791 trillion won) in 35 days.
Usually, if the stock price rises more than 20% from the recent lows, it is interpreted as trending upward, so there is expectation that the world stock market has entered the bull market.
However, the current market cap is still down 17.30% compared to January 20 (about 89,1565 trillion USD), the highest point before the occurrence of Corona19.
Looking at the market growth rate by country (compared to the previous low), Canada was the highest at 35.09%, followed by Venezuela (32.44%), Israel (31.72%), the United States (28.18%), Sweden (27.17%), and Norway (26.98%). appear.
Korea increased by 23.28% to the 12th.
On the other hand, the neighboring countries were 4.62% in China, 13.42% in Japan, and 9.15% in Hong Kong.
Meanwhile, market capitalization in 69 out of 86 countries surveyed increased, but market in 17 countries, including Jordan (-100%), Ukraine (-38.33%), Botswana (-15.82%) and Jamaica (-14.21%), decreased.
Reporter Kwon Jae-hee jayful@asiae.co.kr
Source: asiae.co.kr